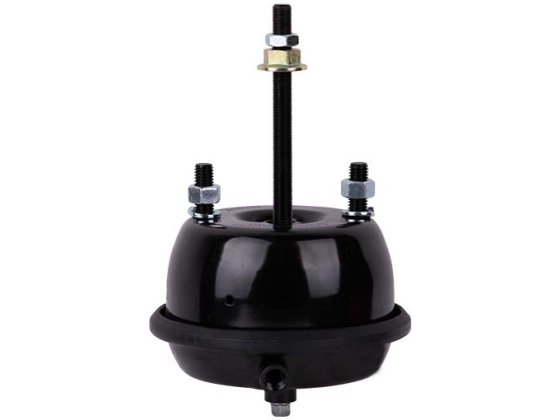 Remote Pull-to-Lock Chamber: 30RPC2
Brake Type: S-Cam Brakes
Application: Trailer
Suspension Type: All
Specs
| | |
| --- | --- |
| Unit Type | Aftermarket |
| Stroke (in.) | 2.5" |
| Service Size | N/A |
| Parking Size | 30 |
| Lead time (weeks) | 8 weeks |
Technical Data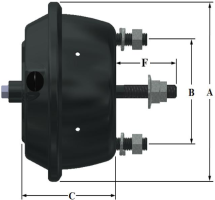 | | |
| --- | --- |
| Chamber Type | 30 |
| Stroke | 2.5" |
| Service Volume (in3) | N/A |
| Emergency Volume (in3) | 92 |
| Weight (lbs) | 12.91 |
| A | 8.1 |
| B | 4.75 |
| C | 5.1 |
| D | N/A |
| E | N/A |
| F | 6.57" |
| Inlet Ports | 3/8-18 NPTF |
| Mounting Studs | 5/8-11UNC |
Replacement Parts

| | |
| --- | --- |
| Stroke | 2.5" |
| B- Dust Cap | K1173007 |
| C- Clamp Assembly | K1343013-EC |
| E- Diaphragm | K1003000 |
| F- Push Rod | K2-1003011-15.15 |
| L- Clevis Assembly | K1103023 |
The Remote Pull-to-Lock Chamber Characteristics
Better Design
The OmniBrake remote chamber features TSE's patented design with a completely sealed, all steel housing and center section. The main spring is made from chrome silicon pre-tempered wire and specially coated to provide you with premium life and durability characteristics.


Corrosion Protection
OmniBrake remote chambers undergo TSE's in-house full immersion e-coating of housing and internal components, guaranteeing 100% coating and consistent thickness for excellent corrosion protection.


Stroke
The remote chambers are available in a 2.5" and 3" stroke, with custom specifications available upon request.


Warranty
OmniBrake remote chambers feature a 3-year warranty standard and 2 years for severe service applications.