TSE Sense - Intelligent Air Brake Chambers
The next step in Brake Chamber Technology
TSE-SenseTM Brake Chambers continuously monitors brake stroke and transmits the data to the TSE-SenseTM Data Integration Box (DIB).
Patent-pending technologies diagnose brake issues in real-time, including:
Dragging brake
Non functioning Service brake
Non functioning Parking brake
Slow brake actuation
Slow brake release
Overstroke condition
Emergency spring failure
Same axle and Cross-axle brake imbalance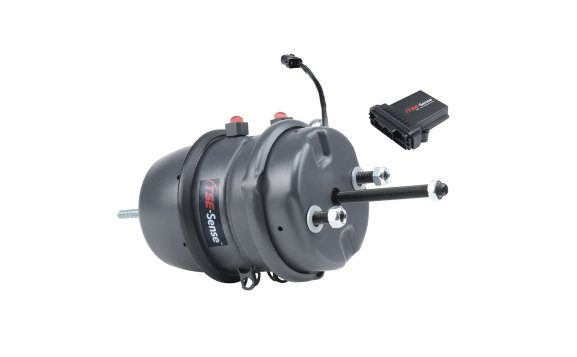 The TSE Sense Characteristics
The TSE Sense system uses our tried and true UltraLife Plus brake chamber as its foundation
Each brake chamber is equipped with a sealed wiring harness
Characteristics & Functions
Each UltraLife Plus Sense Brake Chamber is individually calibrated
This calibration includes identifying information—i.e. stroke rating, parking size, service size, etc.
The Sense system generates brake stroke measurements
The Sense system logs brake performance data
Data Integration Box (DIB)
The DIB is the centralized ECU for the TSE Sense system.
The DIB is mounted on the sliding tandem frame.
The DIB provides power and communications to the Sense Brake Chambers and communicates with the host telematics system.
Characteristics & Functions
The DIB connects to Blue (AUX Power), White (GND), and Red (Brake Light) circuits
The DIB interfaces with 4 or 6 Sense Brake Chambers
The DIB processes incoming data and generates flags
The DIB sends messages to the telematics via RS-485
The DIB contains an on-board Accelerometer to detect vehicle motion