TSE Plant received positive visit from San Luis city council - Covid-19 Update
2021-01-28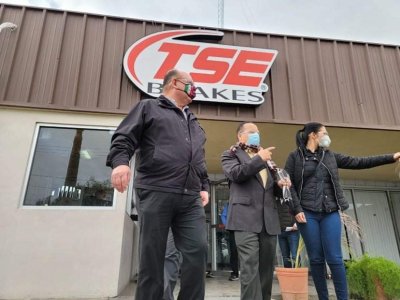 TSE Brakes
January 25th, 2021
The TSE Brakes - San Luis manufacturing facility received the visit from the City of San Luis Municipal Health Committee delegates this week. The goal of the visit was to ensure that safety protocols were in place to prevent the spread of the Covid-19 virus and ensure the well being of TSE Brakes team members at all levels.
The committee party consisted of:
· C.P. Santos Gonzalez Yescas, Municipal President of the City
· Lic. Ricardo Lugo Moreno, Secretary of city council
· Dr. Pedro Torres, Director of Public Health Services
· Lic. Mario Alberto Guevara Rodriguez, Director of Economic Development of the City Council
· Lic. Benito Basilio Covarrubias, President of Canacintra
· Lic. Claudia Lizeth Tapia, Director of Courses and Membership of Canacintra
The official committee were pleased to see the actions and protocols in place at TSE brakes. As of such the Mayor of San Luis – Santos Gonzalez Yescas stated:
"The Maquiladoras are complying with health protocols.
I inform you that today we visit the TSE Brakes and Khomi Textilera factories of the Industrial Park, together with Benito Basilio from CANACINTRA, in order to ensure that health and hygiene protocols are followed.
We could see that both companies are committed to the health of their employees and the proof is that they have had very few infections among their staff.
A large number of families from San Luis are economically dependent on the industrial sector, which is why it is important that they continue to be active.
#AsaTeamWeAreGreat"
This further re-enforces TSE's commitment on the safety and well-being of our employees, who are vitally important to support our suppliers and customers, as well as the communities where we operate.